Matt
Also known as Sniper Fox, Matt is currently the co-admin of Umbrella Inc. Forums.
He is pretty much B.A.
At one point in time he was nothing more than a lurker who never made any posts after his first introduction. He thought all the members were a bunch of stuck-up jackasses. Eventually one summer when he got his internets back, he returned to the forum and became an active member. He soon fell in love with UIF and all the members he once thought were jackasses.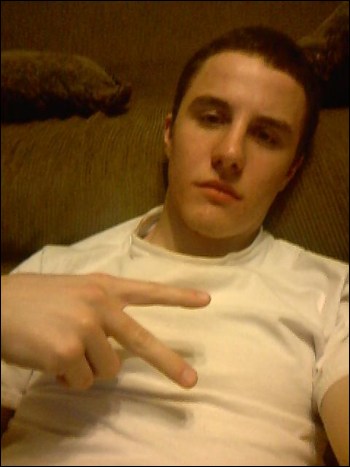 In no time he stepped up in the ranks and sunk his hooks into the admins balls. He also put in some work, purchasing ParaChat Advanced for Holly and the forum. Shortly after, he was made into a Global Mod. After the big Jon/Adam/Holly/Matt & Tanner argument about how Jon was gay and about how the chat was supposedly taking away activity from the forum, Matt and Holly un-friended. He also lost his mod status and eventually deleted his account and went back to lurking and overall just not even going to the forum, mainly hiding out in The Underground Railroad (the Chatroom).
When Tanner created the new forum, Matt was made admin and helped improve the look of the place. To this day he does what he can to make the forum more 'hip' and 'fresh' (with the help of the Graphics Genius, mks-7zdesigns). Him and Tanner also threw down some bones to buy the domain name UmbrellaIncForums.com
Matt goes by many names around the forum, chat and XBL.
Some of them include.
Sniper Fox, Blankrap, Blankhat, Nacirema, x0rbitz, spartanKILLER64, spartanKILL and Layzie.
(Seen at the right: Matt playing with his sisters camera phone after a few too many purple drankz.)
Random Facts
-> Got's 99 problems but a bitch ain't one.
-> Has no sense of humor.
-> Is one of the few members who listens to rap.
-> Favorite movie is The Wicker Man.
-> Was featured in both UIF Motion Pictures.
-> Has a slightly bigger CoD4 Penis than Tanner, but not quite as big as Ark's.
-> Is an alcoholic.
-> Doesn't have his own 360 yet.
-> Loves Target!
-> Drinks shitty beer.
That's all for now.
page revision: 23, last edited: 14 Jan 2009 20:04